How To Write A Job Description To Attract Great Hires
July 31, 2021
Posted by:

Team HRI

Category:

Hiring Trends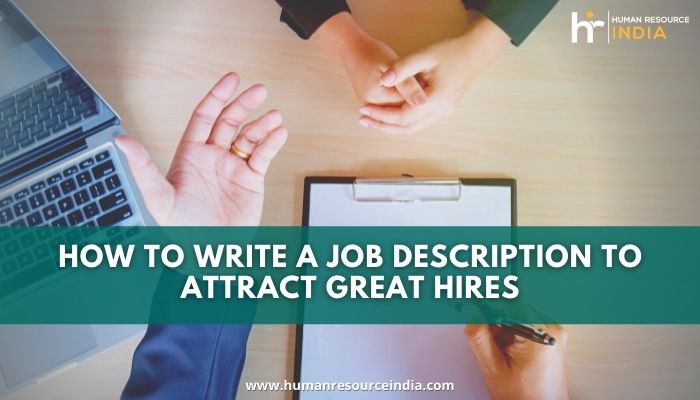 A job description is like the recruiter's sales pitch to potential candidates. Make them descriptive enough to get the candidate's interest. All businesses aren't Apple or Google, with thousands of potential employees stalking their careers page every day. The economy is steadily improving, and the job market is becoming more competitive.
Your job description provides you with an opportunity to connect with potential candidates. Human resource agencies can assist in framing a proper job description. Compelling job descriptions are engaging and inclusive when the right people apply and reduce their time to fill the position.
Tips to Write a Job Description That Gets Results
Proper Structure
A good job description is both concise and appealing. Generally, job seekers may look for open positions on their phones, making your ads easy to read. Bulleted lists are more readable than narrative paragraphs.
Furthermore, well-structured sections help in distinguishing between responsibilities and requirements that show must-have and nice-to-have skills. You can frame a well-structured document by taking help from Placement Consultants.
Clarifying Roles and Responsibilities
Visualize a typical day at work. Divide responsibilities into short, clear job duties. For example, if you are looking for a Sales Manager, rather than using a broad description. Describe specific responsibilities that you will be in charge of as a Sales Manager, like generating leads, meeting or exceeding revenue projections. Finally, meeting customer needs, checking all collaborations and details of revenues.
State this to avoid confusion with candidates later in the hiring process. Make sure you and the candidate are on the same page about the job position's requirements.
Take Suggestions From Various Sources
When creating a job description, always have it reviewed by someone who has previously held that position. If it's a new position, you may take help from those who work in similar-sounding jobs to ensure that what you're looking for is attainable.
Professionals with similar experience to what you're looking for will assist you. They will assist in setting reasonable expectations and determining what qualifications are required. You can search for similar job postings on Job portals like naukri.com to get an idea about market standards for the particular profile you are looking to recruit.
Reflecting Optimism
Even if you want to eliminate unqualified candidates, list job requirements, make sure it reflects positivity. Mentioning a must-have experience is an unfriendly way to introduce your job. Also, it influences how all candidates perceive your employer brand. Instead, be polite and consider job description language.
Including Job Summary and Job Title
The job summary helps the candidates to understand why the position is vital. It also allows you to provide an overview of the role's placement within your organization's structure. Describe the team and the mission of which this role is a part. This information will assist you in demonstrating the value of the candidate's work to your organization.
Make your job titles as specific as possible. Informative job titles outperform generic ones. So be specific by including key phrases that accurately describe the role. Avoid using internal jargon that may be confusing to the job seeker.
Contemporary Employees' Help
Job descriptions are usually stored in a folder with the HR department. When a position is vacated, then only it is discovered. These descriptions are often static for years. They do not reflect current skill, culture, and experience requirements.
Research shows that even when highly qualified, are less likely to apply for a position if they lack the necessary qualifications. Removing any criteria that are no longer required for the job can help—emphasizing the criteria that have to be learned for the job. Also, avoiding restrictive requirements for "years of experience" can help attract more diverse candidates.
Be Realistic
Unrealistic expectations are unappealing, and you may not need to include them. Determine what to do and what to learn on the job, and only include must-have skills in your job ads. If you already have someone in mind who you believe would be a good fit for your role, send them a personalized email.
Display Creativity
Candidates on the job market spend a lot of time poring over job descriptions. Adding creative or innovative touches can catch their eye and interest. So make sure to make it look unique. Add creativity and enhance the structure.
Values of the Organization
When writing a job description, it is easy to forget that you're selling your company, its people, and its values, outlining an open position. If, for example, diversity and inclusivity are essential to your company. Then include this in your company's story to help candidates feel connected to your organization.
A well-written job description paves the way for a smooth hiring process. After your job ad has excited candidates' interest, showcase your company culture. Do this with an appealing careers page and screen candidates with a quick and effective application form.
The key to writing effective job descriptions is to strike the right balance. Provide enough detail to ensure candidates understand the role. Also, know about your company while remaining concise.
Recent Blogs
Learn the best strategies to improve the recruitment process in the hospitality industry with the help of the best hospitality recruitment agencies.

Looking for a job in India can be a daunting task, especially with the current economic environment.

Human Resources is a person, department and employee who works to grow businesses or organisations.