How to Create a Standout LinkedIn Profile
September 12, 2021
Posted by:

Team HRI

Category:

Career Advice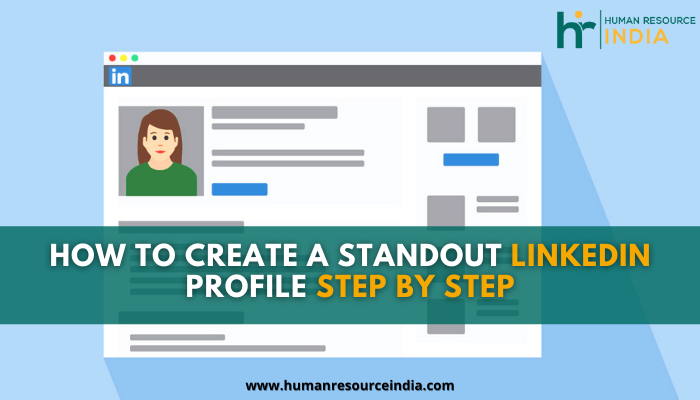 LinkedIn is the internet's largest professional network. LinkedIn can help you find the right job or internship. Connect with and strengthen professional relationships. Also, learn the skills required to advance in your career. LinkedIn can be accessed via a desktop, LinkedIn mobile app, mobile web experience, or LinkedIn Lite Android mobile app. Create a LinkedIn profile and discover the professional network.
Your LinkedIn profile is an opportunity to get name and face in front of many professionals in your field. That is crucial if you are looking for work. You need to create a LinkedIn profile that attracts attention, says the right things, and allows you to connect with people who can help you expand your career.
What are LinkedIn main features?

A quick tour of LinkedIn Home is similar to scrolling through Facebook's news feed. You can view posts made by other LinkedIn users here and create your posts that others can view, like, share, and comment on. Like Facebook, you can limit your posts to only your network connections or share your thoughts with everyone.
My Network is where you can see your existing network of connections and search for LinkedIn users to invite to your network. You can also view previous invitations you've received from others.
Jobs is a comprehensive job search website. You can look for and apply for jobs, learn about companies that interest you, and much more. You can set up notifications and receive emails when there is an update.
Messaging connects you to an instant messaging platform where you can chat with people in your network. If you subscribe to certain tiers of LinkedIn Premium, you can also use it to send messages to people outside your network using something called InMail.
You can find your profile, which is similar to your resume, on Me. You can display your work history, accomplishments, education, current location, and more. It should be as polished as your resume if you have a LinkedIn profile since professional connections and recruiters will look at it.
You can add contact information too. Because recruiters like to call or text prospects, include a phone number. Include your email address, preferably one that you check frequently. You may have signed up for LinkedIn with an old or work email address. Go into your settings and change it to a current personal email address, so you don't miss an employer trying to contact you.
Looking for Work/A New Job. Turn on this section seen only by Recruiters on LinkedIn to let recruiters know you're open to new job opportunities unless you use the "OPEN to WORK" tag (which we don't recommend displaying). You can specify up to five job titles and locations that you are interested in. LinkedIn does an excellent job of shielding you from recruiters at your current company. 

Using the Share That You're Hiring feature, you can share an existing job post associated with your organization's LinkedIn Page or create a new job post. At any time, you can add, edit. You can add or remove the #Hiring photo frame from your LinkedIn profile. Simply click the Me icon at the top of your LinkedIn homepage to get started. Then click the Edit icon in the Share that you're hiring box. Manage job postings or Add job postings.
How to Write a Good LinkedIn Profile?
Use LinkedIn to Tell a Story and Build Your Brand
According to Jena Viviano Dunay, when you create a LinkedIn profile, you should consider your brand. Once you have identified your brand, you can incorporate it into your LinkedIn profile. Your LinkedIn profile provides you with the opportunity to provide a broader narrative. Reflect on your strengths and your way of working. You have more space [than a resume] to highlight a wide range of experiences and skills. It increases the likelihood that a viewer will connect with something in your profile. In a job search, that connection is critical.
Understand your target audience
Identify the viewers of your profile and the keywords that will pique their interest. Consider who will be reading your profile as you write it—most likely other professionals and recruiters in your industry. Dunay recommends looking up a few job descriptions for the type of job you have or would like to have. Look at what they keep talking about, common themes, and what appears to be necessary to these employers.
Consider which ones apply to you and your experience. Also, which specific words and phrases are used to describe them: These are your key phrases. They're probably what recruiters look for when they're looking for people like you. If you're having trouble, Hallow suggests looking for people who have the jobs you want and seeing what skills and experiences they emphasize on their profiles.
Concentrate on the Top Sections
Recruiters, like most professionals, are extremely busy. There are many technical benefits to having a very detailed profile. To attract an audience, you must hook them right away. Include your most important skills, experiences, and characteristics near the top of your profile. This includes your cover photo, profile picture, and header image.
So, if you have a significant award or a fundamental certification, don't wait until the "Accomplishments" or "Licenses & certifications" sections to mention it. Put them in one of your top sections—as high up as possible. The same is true for your primary keywords. Don't let your most marketable skill get buried in the "Skills & Endorsements" section of your resume.
Complete Your Profile
You should include all relevant information that you think is worth mentioning. Avoid missing out on any essential points. For this, you need to prepare priorly. Add all your accomplishments to your portfolio beforehand. It is necessary so that you do not miss out on any relevant data when required. LinkedIn assigns different strengths to profiles based on their completeness. Being at the highest strength, "All-Star," has a "massive advantage." Recruiters and hiring managers will look at your profile whether you apply for jobs on LinkedIn or elsewhere. 
Incorporate Keywords
Once you've determined your keywords, incorporate them into your profile's headline, summary, experience, skills, and anywhere else they make sense. But don't overdo it, warns Hallow. Make sure your keywords flow with the rest of your writing rather than being crammed in. And don't just write "Keywords:" in your "About" section and include a contextless keyword.
When it makes sense, use buzzwords in conjunction with more specific keywords, but showing that you have these qualities will send a stronger message. Instead of simply writing "Successful and hardworking account executive",. Write "Successful and hardworking account executive, who has brought in more than in new business for a variety of fintech startups.
How Do You Get Noticed on LinkedIn?
Include a Cover Photo That Represents You
Your cover photo will be displayed in the blank banner above your profile picture. It's the first thing people see when they land on your page, so you want to make a good first impression. At the very least, you should use an image that means something to you. Such as a landscape view of your favorite location or something that represents your brand.
Use a photo of yourself doing your job or create a banner with text. According to Eilis Wasserman, you can include:–
– Your website URL.
– A few of your key strengths.
– The services you provide.
– Even a meaningful quote.

Simply keep it professional. Canva offers free, customizable LinkedIn banner templates if you need help designing a cover photo. Unsplash also has free stock photos that you can use as you see fit.
Get a Custom URL for Your LinkedIn Profile Sections
LinkedIn assigns you a string of numbers as a URL when you create a LinkedIn profile. However, you can (and should) specify a custom URL instead. Wasserman advises making your URL easy to remember and share (because you should be sharing it a lot). Most people will use their names and initials in some form or another. You can also improve your profile by adding key certifications such as CPA (Certified Public Accountant) or PMP (Project Management Professional).
Catchy Headline
Your headline appears directly below your name on your LinkedIn profile and is the first thing visitors read. The default settings will fill this in with your current position, which is fine for now — but it can be anything you want. Instead, use that space to communicate who you are as a professional in a sentence or two. The more specific you can be about what distinguishes you from your competitors, the better. "Highlight specific skills for which you want to be known," Dunay advises. 
Intriguing summary
You have the opportunity to tell your story in your LinkedIn summary. Your summary can be a more extended version of your headline. You have 2,000 characters to play with here, so you can go a little deeper. Focus on what you do well and what you can bring to a prospective employer rather than your previous experience. Keep in mind that keywords are important here — use words that you want to be associated with.
Example: 
"I'm a sales representative committed to assisting (company name) in increasing their customer base and decreasing customer churn". I have 6 years of local sales experience and have consistently met and exceeded my quotas throughout my career. I've topped our leaderboard six out of ten months in the last year. I close business 10% faster than my "colleagues."
What Makes a Powerful LinkedIn profile?
Expand your network
LinkedIn recommends connecting with 300-500 people you know to build a strong network. The more frequently you connect with any searcher, for instance, recruiter, hiring manager, prospective client, etc. Then more chances of your profile will appear in their results when they search for keywords related to your profile.
It may appear obvious, but it is easy to overlook at times. Because of LinkedIn's system of first, second, and third-degree connections, you must continue to expand your connections. As you meet new people, having a large number of connections keeps you visible to others. Having said that, while you can connect with people, you don't know, it's preferable to connect with people you know personally.
Keep your profile active and engaging
LinkedIn is a networking social media site, not just an online resume. That is, to get the most out of it, you must remain active. Look at what others post, engage them with thoughtful comments, and like and share posts that you find helpful. On LinkedIn, you can also join groups. Whatever your professional interests are, from marketing to accounting, there is a course for you.
All LinkedIn users can create posts or even articles on the platform. You can share your thoughts on what's going on in your field or weigh in on recent industry development. Also, showcase your writing and creative skills. You can even share relevant articles you've found elsewhere on the internet. Even if you are a new professional or in a new field, "you have something to contribute."
If you are not willing to post, start by commenting. Choose relevant interests for your profile and follow experts, thought leaders, and others in your field whose careers you'd like to learn more about. Then, respond to their posts in your news feed.
Check and update your profile
A gauge on the right-hand side displays your "Profile Strength." Essentially, this tells you how thoroughly you've completed your profile. Continue to add more and use the site's tips until the gauge says "All-Star." It's simple, but it can help you see if you've missed anything important.
LinkedIn is a powerful tool that is also very simple to use and benefit from. Make the most of it by optimizing your profile to stand out from the crowd. Sell your skills, and validate your accomplishments. Also, making it simple for them to get a sense of who you are and what you can do professionally for them.
Mention your experience
You can do better than simply pasting your resume into your LinkedIn profile. However, there is no two-page rule in place here. You do have internet readers with short attention spans. Include any jobs you believe are relevant to where you want your career to go. Use good action words as well.
Sample of LinkedIn about me section:

#Written Sample 1
Social Media Manager
I became a social media manager because I enjoy organizing a brand's image to maximize its potential. I enjoy using analytic tools to assist you in developing your social media brand and improving your overall business growth. While there are many social media managers available, here are a few reasons why I believe I am the one you are looking for.
– My primary goal is to assist you and your company in reaching your objectives.
– My previous clients' sales profit margins increased by 13%.
– I've worked with major corporations to help them establish an online presence.
– Bachelor's degree in business management earned in 2014.
– I've worked with various platforms such as Twitter, Instagram, and Facebook.
– I'm always eager to learn more.
#Written Sample 2
English Language Teacher
When I was 19, I was passionate about language and connecting with people, and I decided to go to Japan to get my TEFL certificate and teach fourth-grade students English. Let me say that the experience was incredible, which is more than I can say.
As I grew older and gained more experience, I realized that I wanted to teach adult English learners from various countries. Since then, I've worked to bring high-quality conversational English lessons to people all over the world. In addition to the in-person classroom, I established "English tutorials," an online English course where students can virtually learn the language.
Over the last two years, the course has received over 4,500 downloads.
I continue to work as an international English teacher for the same reasons that first drew me in at 19: language and people.
A successful career is defined differently by everyone, so there is no one way to convey this. Your path is yours, and you must express it in your way, just as you travel it independently. This platform is where your voice and your experiences come into play.
Do not lose sight of the fact that you are telling your authentic story and promoting yourself as a unique brand as you follow these tips. Then you'll have an engaging profile that others can relate to. As the largest professional social network, LinkedIn is still all about making connections. Enjoy yourself. Everybody enjoys getting a message or comment from you. It's a great way of virtual networking. It can be intimidating to share your first post, but eventually, it gets easier and can help you stand out.
Recent Blogs
Learn the best strategies to improve the recruitment process in the hospitality industry with the help of the best hospitality recruitment agencies.

Looking for a job in India can be a daunting task, especially with the current economic environment.

Human Resources is a person, department and employee who works to grow businesses or organisations.