The Role of Recruitment Agencies in the BFSI Industry
April 28, 2023
Posted by:

Team HRI

Category:

Hiring Trends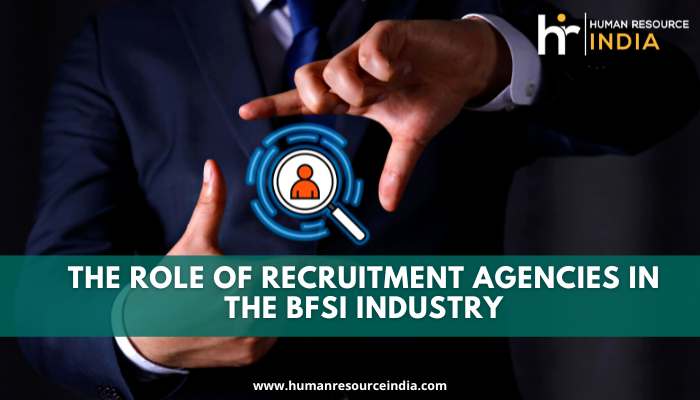 Hiring managers, recruiters, and human resources managers frequently collaborate with BFSI Recruitment Agencies to fill open positions. From entry-level candidates to management and senior roles, BFSI Recruitment Agencies provide a range of services and workforce solutions. Additionally, there are several advantages to collaborating with BFSI Recruitment Agencies for your next job opening if your small business wants temporary, temporary-to-permanent, or direct-hire placements.
For businesses of all sizes, working with BFSI Recruitment Agencies has several advantages. With the aid of staffing solutions, smaller businesses may compete more successfully for top personnel. These companies frequently don't have an HR department or even a human resources specialist, so they lack the specialized resources needed to locate and hire the right talent for their banking organization.
Why hire BFSI Recruitment Agencies?
By linking top candidates to businesses, recruitment firms play a very essential role in the BFSI sector. In order to fully comprehend their customers' unique employment requirements, these agencies work directly with them. After doing so, they look for the most qualified applicants to fill the position.
Minimize Hiring Cost
BFSI Recruitment Agencies may lower recruiting expenses by using recruitment services. Costs associated with hiring, such as advertising, reviewing applicants, holding interviews, and running background checks, can be high. All of these activities may be handled by BFSI recruitment agencies, which saves the business money on recruiting.
The BFSI business may benefit from the temporary staffing solutions that recruitment firms may offer. Employers may manage their workforce requirements while saving money on overhead expenses like payroll taxes, employee benefits, and training costs by using temporary staffing solutions.
Access to Qualified Candidates
BFSI recruitment agencies maintain enormous databases of potential job candidates and a vast network of contacts. This implies that they can locate and track down eligible people for the BFSI sector rapidly. Candidates who may not be actively seeking employment but are receptive to new chances are accessible to BFSI recruitment agencies.
Insights regarding the labor market, including pay, benefits, and employment trends, may also be found through BFSI recruitment agencies. The banking and finance business, which is quite competitive, may utilize this knowledge to recruit and keep top-notch talent.
Expertise in Recruitment
BFSI recruitment agencies have extensive expertise in locating and choosing the best applicants for open positions. They have created tools and recruitment tactics that enable them to find the best applicants for the position. Additionally, hiring managers have access to technology that streamlines the hiring procedure and enhances the candidate experience.
Recruitment firms' expertise is essential in the BFSI sector since there are distinct needs and skills for each employment post. Before introducing individuals to an employer, recruitment companies make sure that they satisfy the criteria for the position, including education, experience, and certifications.
Streamlined Hiring Procedure
The BFSI sector's hiring procedure can be streamlined by BFSI recruitment consultants. From sourcing prospective candidates to onboarding new talent, recruitment agencies may handle the full hiring process. This might be advantageous for the BFSI sector, which needs a quick and effective hiring procedure to remain competitive.
In order to guarantee that candidates have a favorable experience throughout the recruiting process, recruitment firms may also offer a seamless candidate experience. This can aid the BFSI sector in recruiting and keeping top-notch employees.
Flexibility in Recruitment Procedure
BFSI recruitment agency provide flexibility to businesses. According to a company's demands, they can offer staffing solutions on a permanent, temporary, or contract basis. Companies with varying employment needs owing to seasonal demand or project-based work may find this flexibility to be especially beneficial.
– Contract Staffing – For businesses with short-term or project-based employment needs, BFSI recruitment agencies can offer contract staffing solutions. This kind of staffing solution enables businesses to recruit workers for a predetermined time frame, ensuring they have the manpower they need to finish tasks on schedule.
– Temporary Staffing – For businesses that need to fill a job for a brief period of time, BFSI recruitment agencies may also offer temporary staffing solutions. Companies that face seasonal demand or want additional labor to cover for workers on leave may find this kind of staffing solution to be helpful.
– Permanent Staffing – BFSI recruitment agency can assist businesses in finding the best people for permanent employment. They are able to screen applicants, choose those that fulfill the job description, and confirm that the chosen individual will fit in well with the company's culture.
Time-Saving
BFSI recruitment agency might help businesses save time. Job listings, resume screening, candidate screening, and interviewing are all time-consuming steps in the recruitment process. BFSI recruitment agencies handle all of these procedures and only provide the organization with the most eligible applicants. Recruitment Process Outsourcing can free up the human resources division of a business to concentrate on other crucial activities, including training and development.
Conclusion
The BFSI sector is extremely competitive and relies on the right talent to flourish. In order to find and attract the best candidate for a variety of roles in the business. They have a huge professional network and provide priceless industry knowledge. In addition to lowering recruiting costs and ensuring that businesses have the talent they need to thrive in the sector, BFSI recruitment agencies may offer flexible staffing solutions to match the unique demands of their customers.
Companies may save time, save recruiting expenses, and raise the caliber of their recruits by working with BFSI recruitment agencies. Recruitment agencies continue to be essential to the development and success of the BFSI business because of their knowledge and access to talent.
Recent Blogs
Learn the best strategies to improve the recruitment process in the hospitality industry with the help of the best hospitality recruitment agencies.

Looking for a job in India can be a daunting task, especially with the current economic environment.

Human Resources is a person, department and employee who works to grow businesses or organisations.