Most Common Mistakes Made By Job Seekers
February 17, 2021
Posted by:

Team HRI

Category:

Career Advice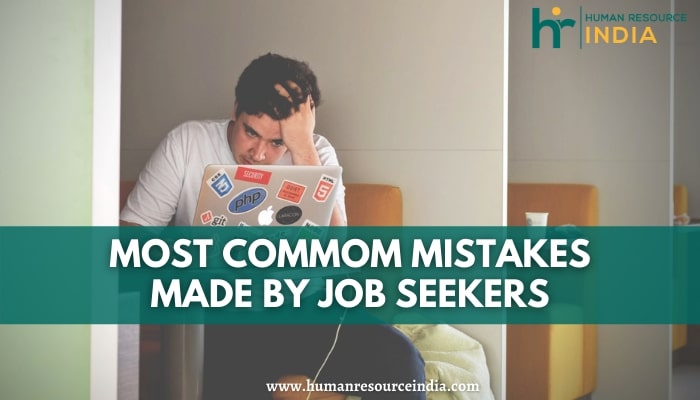 Looking for a job and not getting through the interviews can get really stressful for the job seeker. Finding a job is not an easy task. Mistakes can take place but repeating those mistakes again and again will result in the addition of another unemployment check. These blunders are easy to make but mistakes made by job seekers can cost you a job position.
Generally, facing rejection and refusal during the interviews is due to the negligence of the job seekers who are not able to sell themselves in a presentable manner. You need to avoid those mistakes in the initial phase for better performance in the next interview. So for dodging those mistakes let's discuss some top 10 mistakes made my job seekers during a job search
Top 10 mistakes made by job seekers during job search
Not customizing your resume
The first thing any recruiter will go through is the resume of the job seeker. We often say 'our first impression is the last impression' likewise to make sure you shine in your interview your resume needs to be filled with all the necessary details and achievements in your past life. It should be presented in such an extraordinary manner that it stands out from the rest.
Job seekers commit their first make by not giving much attention to their resumes. They can even hire resume writing services for polishing their resume in a defined way. The resume of job seekers should contain all the essential skills according to the job position.
Going unprepared for the interview
After getting selected for the interview process, the main focus of job seekers should be doing the required research on the organization. The job seeker should gather all the information related to their approach, work tactics, and their guidelines.
Instead of worrying about their dress for the interview or how they will get there. To ace an interview, the candidate must thoroughly study the person taking their interview so that he/she can answer their difficult question smartly and confidently.
Presenting yourself unrefined with low energy
A candidate needs to look presentable in front of the recruiters. Displaying low energy with wearing clothes of loose fits, uncombed hairs, and dull face can really mess up your further chance. This will show recruiters that you are not active for your daily work and your carelessness towards your work giving them a negative impression about you.
Arriving late for the interview and giving unusual excuses about it
It will be very disappointing on the candidate's behalf for arriving late to the interview. It shows that they are not punctual about their time or regarding their work. Giving unusual excuses like getting stuck in the traffic or mechanical error in your transport will give a bad impression about your preparedness regarding the interview.
Not giving much attention to the introductory mail or cover letter
Any employer will always see your introductory mail as your bullet point for your resume. The cover letter should consist of all the recent activities carried out in the organization. Weaving the current events in the mail and presenting them in front of the employers will bring attention to your application.
As a job seeker, your network wouldn't be strong enough to lure employers towards you. Instead of doing all the hard tasks alone, the job seeker must hire a placement agency for expanding their reach to various prestigious companies.
These agencies provide them incredible opportunities and encourage them throughout their hiring process. They guide you by suggesting tips for the interview and carving your rough ends smoothly so that you can perform better.
Being quiet during the interview and not asking any questions regarding the job
Being interactive during the interview indicates your participative behaviour regarding the job. If the candidate is quiet throughout the interview signals that you are not prepared for it and haven't done your homework well.
Applying for too many job positions without searching for it
Leaving yourself open for too many options can result in a big confusion. Finding the right job according to your skills and experience is very necessary. Otherwise, you will be settling yourself in any job without having a future in it.
Not knowing your market value and not able to negotiate it
Knowing your market is extremely important as you should know how much your skills, knowledge, and experience should be given utmost consideration in a job position. The best time to discuss salary is when the employer makes clear that you are their top recommendation for the required position.
While negotiating for the salary with the employers, always let them give an amount range according to their will, and then you should discuss your point of view for increasing the range and your salary requirements.
Wasting too much time in increasing your reach through the internet
In today's technology-based era, everyone is increasing their reach through various social platforms such as LinkedIn, Facebook, Instagram. Instead of spending time on the internet, the candidate should visit alumni activities, volunteer events, and meeting professionals personally through various events. This enhances the experience of job seekers as they get to acknowledge the professionalism regarding high profile organizations and their work tactics.
Summing up many small mistakes and blunders can be avoided initially by preparing for it before time. Getting selected for a job position is very challenging in today's situation. There is fierce competition regarding employment everywhere. Thousands of candidates are racing for the same post, so you should be different from others to be a suitable fit for the job. Even the smartest job seeker can commit these small mistakes and miss out on a great opportunity. By learning from these mistakes made by job seekers and navigating them a proper way can yield positive results for you.
We at Human Resource India provide incredible services to the job seekers related to job search through job consultancy. We also assist the candidates in making their resume spotless with the help of our resume writing services.
Recent Blogs
Learn the best strategies to improve the recruitment process in the hospitality industry with the help of the best hospitality recruitment agencies.

Looking for a job in India can be a daunting task, especially with the current economic environment.

Human Resources is a person, department and employee who works to grow businesses or organisations.