Mistakes to Avoid While Writing a Cover Letter for a Job Application
August 1, 2021
Posted by:

Team HRI

Category:

Career Advice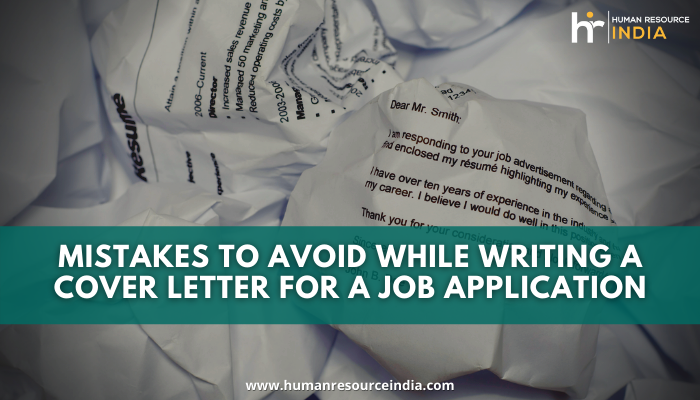 Your cover letter should emphasize why you are a good fit for the job. It should encourage the hiring manager to review your resume and contact you for an interview. Employers expect you to complete these objectives in three paragraphs or less. An effective cover letter necessitates understanding how to make the most of the space available. Professional resume writers can help you to avoid such mistakes. It's critical to understand mistakes to avoid while writing a cover letter which could cost you an interview.
What Not to Include in a Cover Letter
Mentioning Irrelevant Skills And Experience
Another common blunder is attempting to use your cover letter to explain why you lack relevant experience. You may want to assure the hiring manager's concerns about your experience or lack thereof. You should avoid making it clear that your experience is irrelevant.
Emphasize how your previous experiences prepared you to be one of the best candidates. Discuss what you've learned from your experience. Also, discuss how it has led you to the position you're applying for.
Make sure you explain how you intend to use the skills and knowledge you gained from experience. Also, how to add value to the company and succeed in your new role.
Not Doing Proper Research
Writing a cover letter that is tailored to the requirements of the position and the company requires research. It will help you identify the things that are most important to them. It also will help you decide what information to include. Proper research is frequently the essential factor in writing a cover letter. It helps you to connect with the hiring manager. It also demonstrates why you are the best candidate for their position.
Please read the job description carefully and look for any information that the company highlights as being necessary to the specific role or about themselves. Then, go over the company's mission and vision statements. Look at their website to learn more about their history, goals, and culture. Finally, gather additional information about the company from outside sources. You can search on news outlets, job boards, and reviews.
State this to avoid confusion with candidates later in the hiring process. Make sure you and the candidate are on the same page about the job position's requirements.
Style of Formatting
Choosing the proper format while writing a cover letter makes it easier to read for the hiring manager. While you want your cover letter to stand out, avoid being overly artistic or wordy. Concise paragraphs allow them to scan your letter. Limiting the use of graphics and color helps to ensure that they remain relevant.
Begin with a cover letter template to ensure you're using the proper format. Then, as needed, modify the template to make your letter unique and help you stand out from the crowd. Resume writing services surely will help you out with the correct format. Your cover letter should be no more than one page long. It should be with one-inch margins on all sides and a space between each section. Choose a professional and simple font and a size that is easy to read.
Neglecting Valuable Skills and Accomplishments
You might also use your cover letter to explain why your resume does not include specific skills listed in the job description. As with irrelevant experience, you want to avoid drawing attention to a weakness or a lack of experience. Your cover letter must emphasize your greatest strengths. Include the skills that are most relevant to the position for which you are applying.
Begin by reviewing the job description. Then identify the skills that are required that correspond to your greatest strengths. Then consider your experiences and accomplishments that it can use to demonstrate that these skills are a strength for you.
Even if they are a strength, avoid mentioning them as irrelevant skills that will not help you succeed in the role.
Stating Income Expectancy
Unless the employer specifically requests it, your cover letter is not the place to discuss your current salary. Neither should it reflect your salary expectations. Talking about salary expectations too soon may give the impression that you are more interested in the benefits of the job. And not in how you can benefit the company.
In your cover letter, explain how you can add value to the company and the role. If the employer requests that you include salary expectations, use a broad range that you are comfortable with. It is better than a specific number. Better to skip this in the cover letter.
Not Including Keywords
Keywords are another essential tool for making your cover letter stand out. Applicant tracking systems sift through application documents, including cover letters. If the hiring manager sees keywords and phrases relevant to the position and company, your cover letter is more likely to stand out.
To determine the most relevant keywords to include in your cover letter, read the job description. Also, research the industry and the company. Try linking keywords to statements with your skills, strengths. Further, link it with your accomplishments to make statements about your value stand out.
After you've updated your professional resume, it's time to start preparing job applications to send to hiring managers. This step usually entails making minor changes to your resume and writing a cover letter to go along with your application. Frame the cover letter carefully and try to avoid these mistakes while writing a cover letter.
Recent Blogs
Learn the best strategies to improve the recruitment process in the hospitality industry with the help of the best hospitality recruitment agencies.

Looking for a job in India can be a daunting task, especially with the current economic environment.

Human Resources is a person, department and employee who works to grow businesses or organisations.