How to Recruit Employees During the Covid-19?
September 3, 2020
Posted by:

Team HRI

Category:

Hiring Trends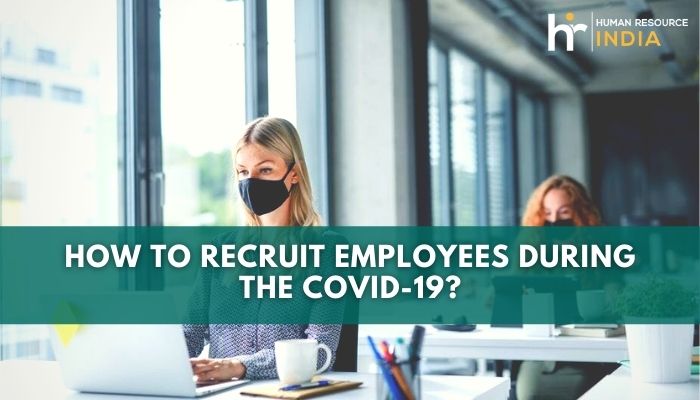 The coronavirus pandemic has disrupted our lives in many ways and has also affected the corporate sector considerably. In this situation, organizations need to be flexible and adaptable. Organizations must prepare the existing employees and train new employees to alleviate the crisis due to coronavirus and sustain productivity and well-being.
The coronavirus pandemic has caused employers, employees, and job seekers to change their course of action drastically. Several employees have been discharged of their services, while the more fortunate ones work from home, but they receive reduced payrolls to support costs. Numerous companies have now resumed operations and have started with their recruitment drives. Hiring managers are adopting the new norms to recruit employees during the covid-19. They are accommodating rigorous health and cleanliness models and integrated strategies and devices to ensure the safety of everyone involved.
Tips to Recruit Employees During the Covid-19
Work From Home
Work from home might sound very easy, but it isn't that simple. Recruitment agencies must look for candidates who are disciplined, self-motivated, and proactive while recruit employees during the covid-19. It is better to opt for candidates who have worked as a contract or freelance workers and have performed well in that job profile. Organizations can take the help of a manpower consultants that can help them in finding suitable candidates and send relevant leads to the organization, which would enable the organization to focus on other business activities. Work from home should be encouraged to maintain the social distancing standards and it should be mentioned in the job posts. In case candidates are hired for in-office job profiles, then appropriate health facilities must be provided.
Clear Job Descriptions
The number of job seekers has doubled since the coronavirus outbreak due to the recession. Employers are getting applications at more than the regular rate for an open job position. Therefore, it is advised to specify definite skills and experience in the job descriptions, which will reduce the number of unsuitable candidates. Modern-day recruitment software can be used to manage more candidates. Organizations must maintain their employer brand, as candidates differentiate between employers based on how they were treated during the hiring process. The employer must mention the travel and commuting requirements in the job description, such as visiting headquarters and meeting clients. The job description must include the duties and responsibilities of the job profile. Since many employees are working from home, the job description must also have the required resources like internet connections, laptops, or smartphones.
Online Job Interview
With in-person interviews being out of the picture, video conference interviews are the way to go when it comes to recruit employees during the covid-19. A telephonic interview takes place for the shortlisted candidates and those who perform well in this stage move to the next stage, which is a video conference interview. Employers prefer to take live interviews with Zoom or Google meet or even pre-recorded video interviews. Employers must fix an early morning interview and evaluate their appearance, preparation, location of the interview, and personality that gives an idea of their working environment at home. It is vital to make the candidate comfortable and help them open up and reduce their nervousness.
Clear Tasks And Assignments
Managing work from home tasks can be quite difficult for employers and may reduce productivity. Setting routine targets and weekly goals can help increase efficiency. Making a schedule makes the work very easy. Managers must help the employees to equip the required resources and tools to finish the task. Achievable assignments must be given to employees with reasonable deadlines. Employees should not be overburdened.
Social Media Marketing
As organizations welcome the new employees after the hiring process is completed, they can engage their human resources and marketing teams in posting about it on social media, paid advertisements, and referrals to invite more passive candidates. People spend more time on social media and consume more online content as they are at home, and work with them to build up an active talent community.
Organizations must understand the need to be flexible and adaptable. The way the organization handles the workload and stress during the pandemic will ultimately affect the working of the organization in the future. Both new and existing employees should be trained to tackle issues and help the organization grow even during the coronavirus pandemic.
To conclude, remote hiring is here to stay and adapting this new way will not only save you time and cost but also help you reach a wider range of talent present all around the world.
Recent Blogs
Learn the best strategies to improve the recruitment process in the hospitality industry with the help of the best hospitality recruitment agencies.

Looking for a job in India can be a daunting task, especially with the current economic environment.

Human Resources is a person, department and employee who works to grow businesses or organisations.