How To Recruit Talented Employees For Startups
May 30, 2021
Posted by:

Team HRI

Category:

Hiring Trends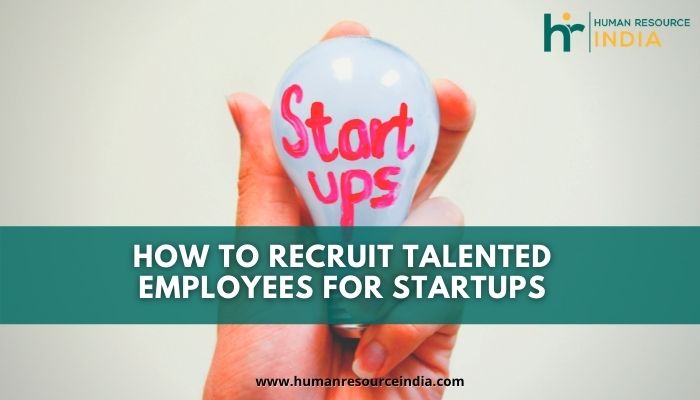 Recruiting talented employees is a challenging task for organizations, and it becomes even harder for startups. These businesses are new in the corporate world and have limited assets. Therefore, startups need to recruit top-notch talented employees who can add and contribute to the growth of their business. Recruiting the wrong candidates can potentially break the startup. Hence, employers must be very cautious with their choices and do their best in recruiting talent.
Tips For Hiring Talented Employees For Startups
Vision of the startup
In the initial stages, startups do not have adequate financial resources to offer big pay and allowances to their employees. To recruit talented employees to come and work for the startup, employers must develop the business with a great purpose and vision that inspires the candidates to join the organization. The founder must be able to explain the long-term vision to their potential employees and present the business model in the best possible way. The candidate needs to understand the true meaning and essence of the idea behind the startup, and only then the candidate will be interested in becoming the part of the team.
Hiring supporters
Hiring supporters means selecting people who will take ownership within the startup and, as a result, will be more dedicated and will work harder than the regular employees. Moreover, supporters are beneficial for word-of-mouth marketing as well. If they genuinely like working for the startup, they will tell their connections how good it is to work for this business and ultimately, these connections will aspire to work in the startup as well. Even if the supporters of the startup do not have the appropriate skills for the business, employers might still consider finding a profile for them as sometimes attitude can trump qualifications in some roles. 
Recruiting remote employees
It is a possibility that startups may find it challenging to find candidates in their local area. In such a case, remote employees become a necessity. Recruiting remote employees means having a complete world full of top-notch talent from which to choose. But, the remote working option is a no-cost perk. Therefore, if recruiting remote employees is not a viable option for the startup, offering flexible working conditions, like coming to the workplace three days a week and two days work from home to entice the candidates to opt for the startup.
Work culture
It is important to build and sustain a positive and happy work culture. If the workplace is a great space to work, then quality candidates will want to work for that organization. Employees who enjoy their work, colleagues, and the work environment tend to work harder and add more value to the business. Word of mouth is also an efficient way of finding and recruit talented employees. If the existing employees are happy with their work culture, they will talk to their social connections about it and entice top talent towards the startup.
Brand building
One of the most popular reasons job seekers want to work for a particular company is to be associated with a reputed brand. Every individual aspires to invest their time and effort to take their career one step further. A new business brand with potential growth opportunities can be appealing to talented employees. It is essential that the employers efficiently market their business on social media platforms, blogs, sponsor events, and show people what it is like to work for them.
Sustaining existing talent
Quality candidates want to work with other talented employees. Job seekers are usually interested in consistent growth and being around other talented personalities inspire and motivate them to work even harder. Acquiring from each other and admiring each other's accomplishments help ambitious people develop momentum. And when startups have great employees working for them, it becomes easier to draw even more talented candidates.
Offer challenging tasks
High-quality employees usually do not wish to waste their time and efforts working on boring designs. They wish to be challenged, so give them significant, inciting, arduous tasks, and goals to achieve and they will complete the challenge and add to the growth of the business significantly.
Online advertisement
Startups must be active on social media and preferably develop a blog page, and provide guest content on suitable sites. It must establish its brand into a thoughtful leader, and talk about the startup idea and share the lessons the managers learned. Good quality candidates will read their writing, and some of them will aspire to join the team. To build up the brand image through social media, it is best to hire social media experts, as they have expertise in this area and can help the startup grow online.
Networking
Startups can expand their talent hunt by using the time to speak at meetups and events. Speaking engagements are excellent opportunities to sell the business and vision to potential future employees. Moreover, these are vast networking settings. Social media experts can help the startup find such opportunities as most of the events and meetups are announced on social media platforms.
Human Resource India is one of the top Manpower Agency and has been serving some of the reputed companies with our exceptional team members, transparent work process, and we're proud to say that our growth graph has witnessed a decent success rate. With over 100 companies as our clients, we make sure to transform this association into long-term partnerships. Reach out to us, and one of our recruitment experts will get back to help you in recruiting the right talent for your startup.
Recent Blogs
Learn the best strategies to improve the recruitment process in the hospitality industry with the help of the best hospitality recruitment agencies.

Looking for a job in India can be a daunting task, especially with the current economic environment.

Human Resources is a person, department and employee who works to grow businesses or organisations.