Tips for Successful Employee Recruitment
August 10, 2022
Posted by:

Team HRI

Category:

Hiring Trends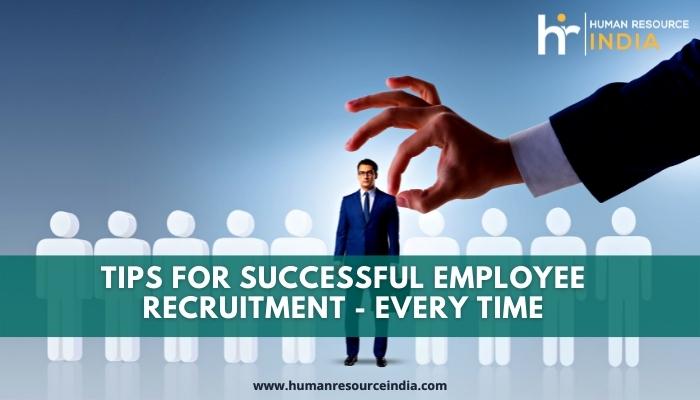 To connect with qualified applicants and drive enthusiasm about the role, you have to find ways to stand out from other organisations while employee recruitment.
Hiring employees with the best talent demands a combination of creativity and attention. Technology makes it easier than ever to advertise your job vacancies to a broader audience but to connect with qualified applicants and drive enthusiasm about the role and your organisation you have to find ways to stand out from other organisations while hiring employees.
Finding the best possible employees who will be a perfect fit for your work culture and further contribute to your organisation is a hurdle and an opportunity. Retaining the best people, once you find them, is simple if you do the right things. The following tips will be able to help you with successful employee recruitment.
Tips for Hiring the Best Employees
In-house talent pool
Hiring employees who are already working for your organisation for the required job vacancy can have a lot of benefits. Originally you save a lot of time and cost, as your entire employee recruitment process gets cut short to a few steps. Moreover, this motivates your employees and even promotes multi-sector development and learning. By initially posting job vacancies internally, you are increasing the morale of your employees which later increases their loyalty and trust in the organisation.
Social Networking
In the millennium age, for hiring employees, everyone is moving towards socialising over the internet. Most potential candidates look through online websites and social media accounts to find the most suitable job. As an organisation, having a public profile on social media sites like Facebook and Linkedin can help you get a broader reach and have a better pool of talent. You can regularly update about the activities in your organisation and also about all the job vacancies. Linkedin especially has become the most searched website by job-seekers and other organisations for employee recruitment.
Including current employees in employee recruitment
There are various ways to involve your current employees in assisting in hiring employees such as- 
– They can recommend the best candidates for the organisation;
– Assist in screening resumes and best skill sets for the best fit;
– Help in the interview process to analyse the most suitable candidates.
However, to save your and the employees' time, you can always choose to hire a recruitment agency, which will simplify the process of hiring employees and get you excellent candidates for your organisation.
Job descriptions
A job description is the first thing a potential employee sees while searching for a job. That is the first impression of your organisation in the minds of the candidates. So as an employer, you must create the most interesting and informative job description to help the job seekers understand more about the job profile and your organisation as well.
 Here are a few tips to consider for a good job description for hiring employees
– Keep the title as specific as possible, as the more accurate your title, the better it will be in catching the job seekers' attention.
– Provide an interesting summary of the organisation and job role
– Always include the essential details such as the requirements, benefits, and everything vital for the job.
– Keep the description between 700-2,000 characters as long descriptions are commonly not successful in getting the job-seekers attention.
Attend industry-related conferences
Usually, job fairs can be valuable in maintaining a great talent pool for employee recruitment; only industry-related conferences can also be a nice platform to interact with highly skilled and motivated professionals.
There is a good chance that you might encounter great potential employees for your organisation, as interacting face-to-face can help you know a person better as compared to reading their resumes.
Reference checks
While hiring employees is itself a time-consuming and critical process, you might be able to manage to shortlist a suitable group of candidates. The next step is one of the most important steps in the employee recruitment process, which is checking the references provided by the candidates in their job applications. Even though it is common knowledge that everyone will provide good recommendations only yet it helps in getting to know the strong suits of the candidate and it can even save you from getting defrauded by fake references.
As mentioned earlier, hiring employees is not an easy task and there are many alternatives and methods for employee recruitment. However, the best way to go about the recruitment process is to hire the services of a placement consultancy as they offer various benefits to an organisation while hiring employees and making sure to find the best possible fit for the job.
Recent Blogs
Learn the best strategies to improve the recruitment process in the hospitality industry with the help of the best hospitality recruitment agencies.

Looking for a job in India can be a daunting task, especially with the current economic environment.

Human Resources is a person, department and employee who works to grow businesses or organisations.