Expert Tips to Help You Write a Stronger Resume
December 21, 2021
Posted by:

Team HRI

Category:

Resume Writing Tips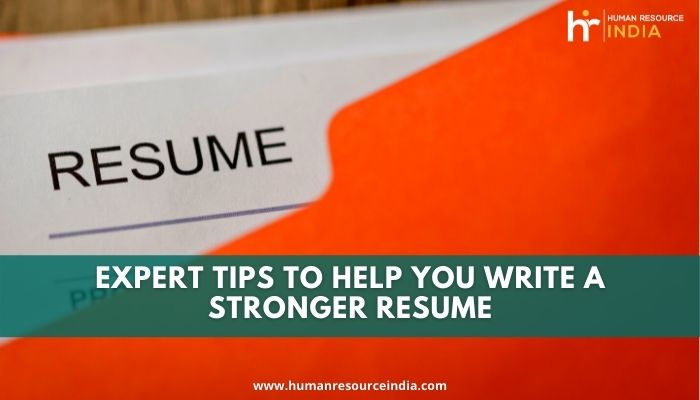 In this ever-changing marketplace with an increasing need for jobs and talents, both employees and employers find it hard to match a worthy candidate to fulfil their requirements or needs. Even those with a career in hand fall short to know their worth in the actual job placement. According to a survey, 60% of currently working employees are not satisfied with their job and passively looking for a better opportunity. 
The resume must sell you in your best form to the recruiter to catch a good opportunity. It is crucial to building a powerful resume that can land you a well-paying job offer. A stronger resume can make the opportunity or break the deal. It is a stepping stone in your way to clear the recruitment process. Resumes that match a job are filtered and then selected for the interview round. A candidate needs to initially leave an impression on the recruiter, and it's more important to keep the requisite pointers in mind before creating a stronger resume.
How to Write an Impressive Resume
Get an introduction to resume writing from industry professionals. The following tips will help you write a stronger resume:
Create a Master Resume
One of the experts recommended preparing a 'Master resume' before creating a resume directly for the position. Master resume includes every little experience, skill, achievements, certifications, reference you hold, which generally accounts for about 4-5 pages maximum.
You design this resume for safeguarding and keeping note of all the possible things that can help you in your career. This is the first step towards creating an organised resume that will catch every recruiter's eye.
Adjust resume according to JD
Research the company and the job's role and responsibilities before writing down everything you think are suitable for the description. Many employers say that resumes that hint that it was not designed purposefully for the particular job get behind the queue of other job candidates if not rejected directly. 
Here, the master resume will help you pave your way into the interview. Write down the experience relevant for the asked position through the master resume to your CV. Customising a resume for each job increases the 80% possibility to catch HR attention.
Use a format with fun elements
Have you heard the phrase, 'Employers can reject resumes within six seconds'? I hate to tell you, but experts have commented on this phrase, revealing that 65% of recruiters reject resumes within seconds if it fails to appeal to them in any exciting way. 
Make sure your resume format is eye-catching so that employers spend more time on it. It is feasible to include the logos of the organisations you have previously worked for. Do not keep it casual. One must consider the resume as a formal document. Samples of your project can also be included if a graphic is appropriate to show your work.  
Be sure to not overly decorate the resume or add fancy design which can't even get past the AI software or becomes too hard to decipher your role for the employer. Recruitment or hiring managers shouldn't have difficulty finding the information because the font is too small or dull.
Add Quantifiable achievements
Your resume is a chance for you to exhibit your value to a prospective employer. Experts suggest that quantified data is typically the most significant element you can incorporate to help the future employer instantly grasp the influence you've made in past employment. If you want to be taken seriously as a professional, you must highlight your most notable achievements in your resume.
Remember the Length
The following are some general parameters to bear in mind when it comes to the length of a CV or resume:

– If you are a recent graduate or have under five years of experience, adhere to one page.
– If you've been in the industry for at least ten years, you've reached the second page. With ten years of expertise, a one-page resume might be challenging to go through and include all of the relevant accomplishments and keywords.
– Only if you have done public speaking, specialised research, or published materials should you use three pages.
Making it too long may confuse employers about the most relevant experience to emphasise and, most crucially, make you appear a bragger. Making it too short can give the impression that you are unfit for the role.
Focus on the necessary Keywords
If your resume does not contain the appropriate keywords, it may never fall into human hands. The most important terms in the JD are the keywords; take advantage of them to increase your chances of getting selected. 
The keywords in the job description will be the abilities, talents, and experience that the employer is searching for in an applicant, so assuring you to cover them in your resume is imperative.
Discard the phrase "responsible for"
A simple way to make a stronger resume is to eliminate the phrase "responsible for" from your sentences. Duties are the day-to-day tasks that must be completed in every work. Responsibilities don't advertise you; you promote yourself. Alternatively, centre your attention on your abilities and achievements. Employers are more interested in perceiving the outcomes of your effort than they are in reading a long set of projects you completed.
You must add how creatively you enhanced the role you fit in. In this manner you illustrate to the recruiter the consequences of your initiatives. This also exemplifies you as a leader for the team.
Follow the re-checking approach
Before sending your resume, specialists advise that you get it evaluated by peers, family, and coworkers who know you personally. To better assist you in identifying any errors or omissions, they may provide you with advice regarding the quality of your resume.
After omitting all the mistakes, re-check to verify that you are sending in your best work, showcasing a high degree of professionalism to the recruiter.
Mention regular-use contact information
For an employer to get in touch with you, you should provide your most often used contact information in your resume. Use your actual name in your email to exemplify to the company that you take your work seriously and professionally.
The name followed by email and phone number should be highlighted. This section of your resume should not be neglected. Contacting you ought to be a sure bet for potential employers.
A stronger resume format covers the contact details either at the very beginning or at the extreme end. Make sure you add the latest details. It is a standard practice to add an alternate phone number too, in case the odds take place.
Write a Cover letter
Writing a cover letter is the next step after creating a well-organised resume. According to the advice of industry experts, establishing a connection with the company can be done in the initial sentence of the cover letter.
Candidates should avoid using abbreviations and symbols in their letters and double-check their work for errors. Cover letters are a crucial component of the application process. Candidates can show their interest in the initial process by submitting a follow-up inquiry to the HR office. The ideal length is less than one page or approx—four paragraphs of a cover letter.
Email Resumes with the Appropriate Attachments
Try to follow the employer's detailed guidance on how to send your CV. When sending your resume through email, the company may request it be attached and submitted in a specified format, generally a Word file or an Adobe PDF. Always adhere to the rules and regulations set out by your employer.
One ought to keep their CV's precise and to the point. Do not beat about the bush and provide evidence or an assurance to the fact that you will be an asset for the company.
Human Resource India excels in providing top-notch resume writing services. Our industry experts bring with them an outstanding experience of decades which helps the candidates land their dream job. We also help students and job aspirants in clearing their interviews. The entire recruitment process is taken care of. Our services are dedicated to help the potential aspirants achieve a package and an environment which nurtures their development.
In conclusion, our experts recommend being confident- your resume contains the most significant content necessary, that it is organised to showcase the most critical information and thoroughly reviewed for mistakes and typos. It will help you create a significant impact on the recruiters and possibly land you an interview. Utilise the chance you get a stronger resume with the tip mentioned above.
Recent Blogs
Learn the best strategies to improve the recruitment process in the hospitality industry with the help of the best hospitality recruitment agencies.

Looking for a job in India can be a daunting task, especially with the current economic environment.

Human Resources is a person, department and employee who works to grow businesses or organisations.